Spotlight on Karen's Bakery - Beloved and Delicious European Style Bakery & Cafe Now In Their 20th Year at 705 Gold Lake Dr
---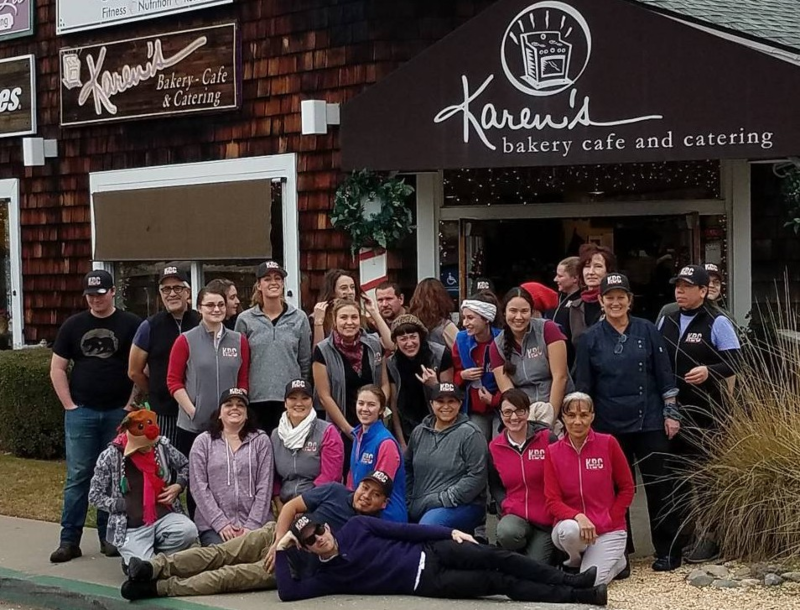 The Folsom Historic District is pleased to include Karen's Bakery in our Business Spotlight Series.
We're spotlighting long-time favorites, new arrivals, and hidden gems alike. Please take a moment to share these local stories and visit with merchants to get to know them firsthand.
We connected with Karen to learn more about Karen's Bakery at 705 Gold Lake Dr.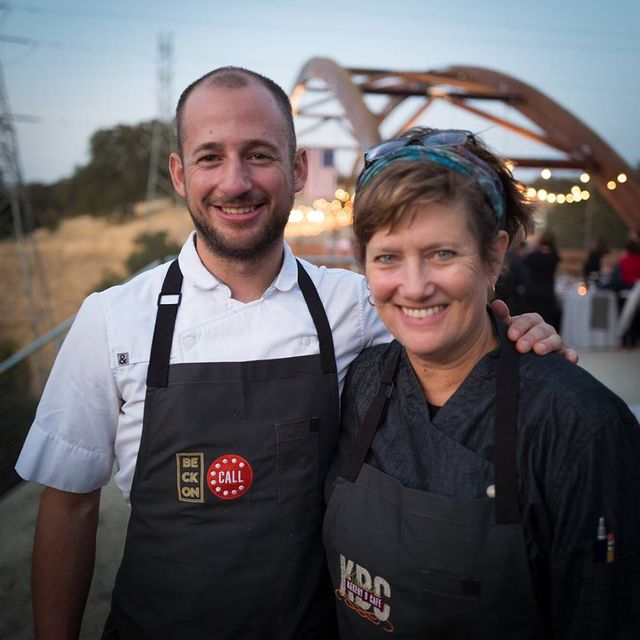 What is Karen's Bakery, how would you describe it to a friend?
We are a European Style bakery that serves breakfast and lunch daily - and we make all of our own baked goods.
My mom was Danish so I grew up going back and forth to Denmark, and she made sure we knew what a European Style bakery was. That's what inspired
Karen's Bakery
.
Why did you start the business? What do you hope to accomplish?
I'm not a very good example of setting a goal to accomplish. I was just baking away at home and everything kept growing and mounting. You have to have an outlet and this is what I was doing when I was a stay-at-home mom.
People would ask me to cater and take care of events and it came to a point of "What am I going to do with all this food and all of these ideas?" It came down to how to successfully play with food.
Almost 30 years later, we are still in this business. We are now in our 20th year at this location, with the catering aspect of the business starting 7 years before that.
My son is also in the business and has made cooking his outlet. He was my first catering cook, dish boy, sous chef, you name it. We learned the business together and then he went to college, got a degree in Economics, and then he too started working in the food industry. He received a Michelin Star in San Francisco and now has two of his own restaurants in Denver.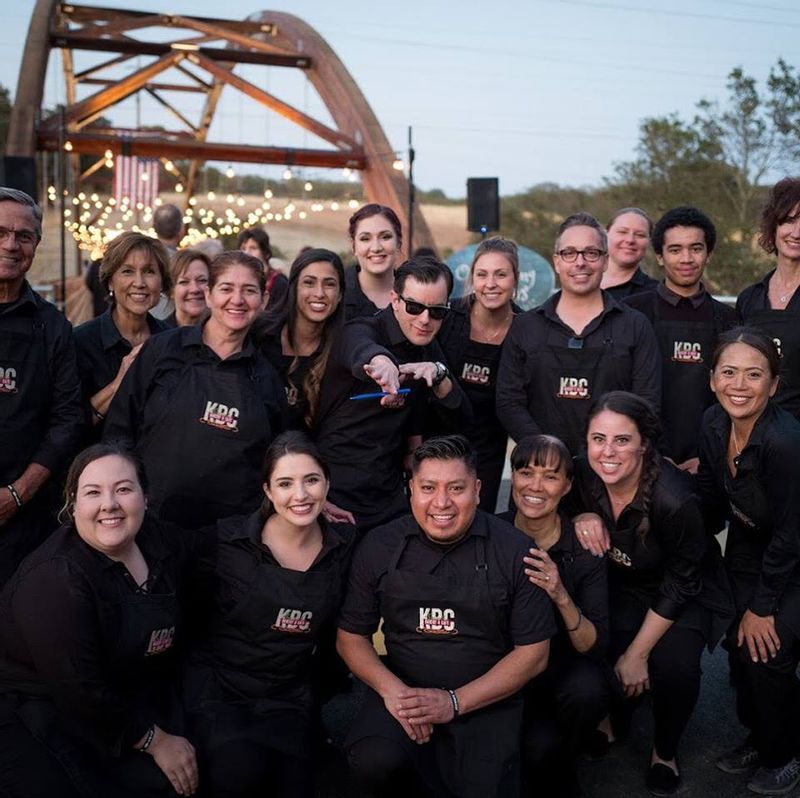 What is a common question you get?
Why are you always closed on Sunday?
The reason is because when I first started this business my kids were in middle school, I loved (and still do!) my husband a whole lot, and I wasn't going to give up my family for this business. I wanted to stay home and make sure I had a family.
What's something you wish people knew about your business?
We have 38 employees in 7,000 square feet. It's something I never set out to accomplish, but that's how many it takes to have a restaurant. It's amazing.
What is your most popular dish?
We sell lots of granola, and we make it all, which I'm happy about.
The sunny tart (called the "Sunny Side Tart" in the menu) is something we sell an awful lot of. It's just puff pastry (and we make all of our own puff dough) filled with cheese and bacon and it gets served with a sunny side egg on top and a side of fruit. It's a great one!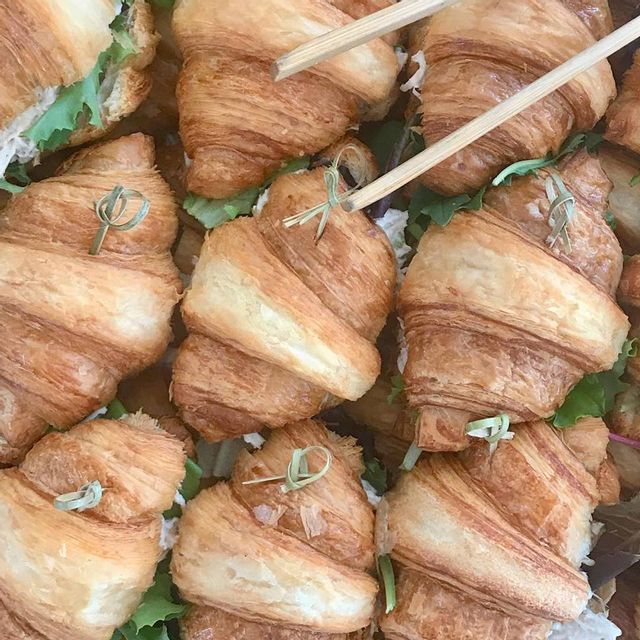 What item are you most proud of?
I'm most proud of our croissants - plain, almond, ham and cheese - because we are dedicated to making our own croissant dough (and people love them).
There are many bakeries out there who are buying their croissant dough because producing it is very labor intensive and expensive. My thing from the beginning is that I love that particular medium and so we will always make our own croissants.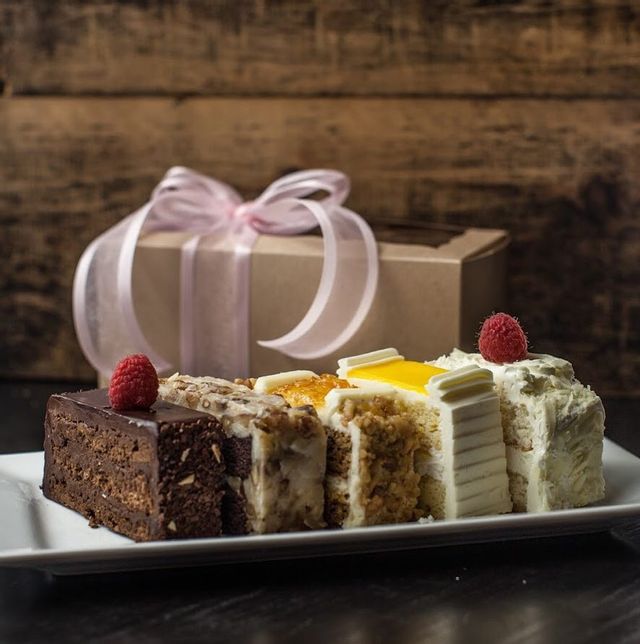 What is Karen's most popular dessert?
We have a box right now that features six different slices of cake. They are wrapped in a cute box and they make a great hostess gift.
People seem to really be enjoying the variety that comes in a single box.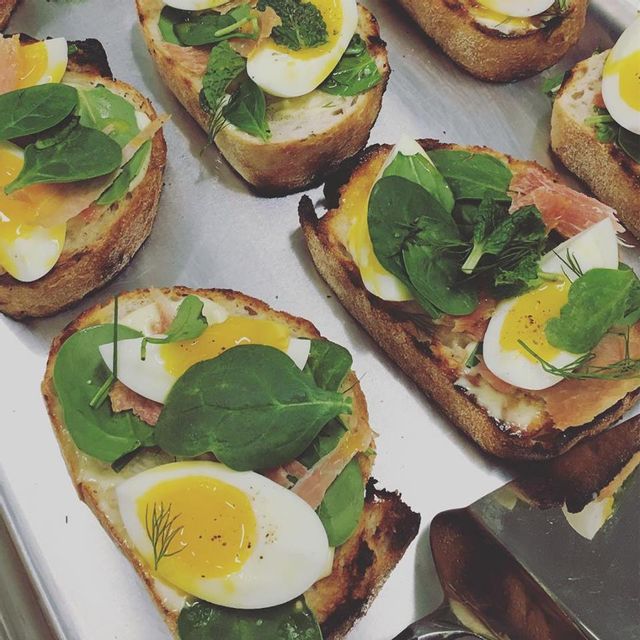 What's the biggest compliment you've received?
One of the things I love most about this place is the community vibe. I love, love, love when we knew families who had kids and now those "kids" are grown up and are bringing their kids. It's a multi-generational ripple that happens and I love it.
I love it when people say to their out-of-town guests that they have to go to
Karen's
for breakfast.
I like being a blip on the community's radar.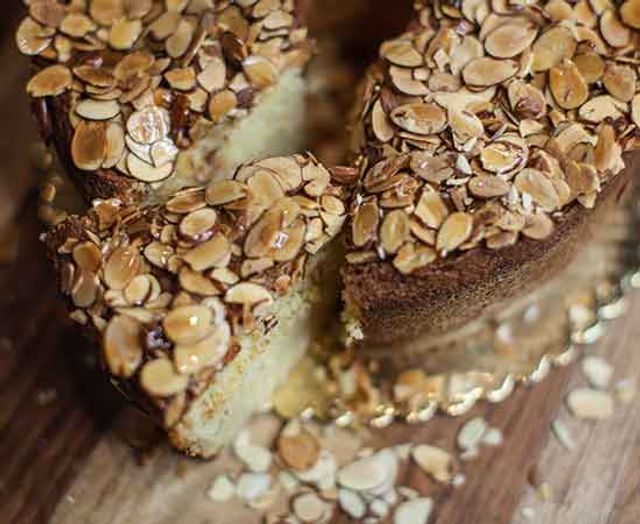 What is YOUR favorite dessert?
It has never wavered, I can easily answer that! It is the Almond Polenta Pound Cake. It is the "wall flower" of our desserts. It's very plain and it's sooo special.
People look past it in the dessert case all the time, but it is good on it's own, it's good with berries and whipped cream, and when it gets stale you just toast it and put some honey on it and it's awesome!
What is your favorite thing about your business?
One of the things I never anticipated was growing this big and employing this many people - it takes on a whole new meaning when you employee people. I have people who have worked here for 15 years and to be responsible for people making a living is amazing.
There are some people here who it's just a job and they are here for a time and then they move on to what they are called to do in life. But there are other people who have committed; they're here, they stay, and they've helped make this a notable place.
I like that they've committed to staying here and it tells me something about the kind of place this is to work, but it has also has grown within me a respect for how important it is for it to be a good place to work.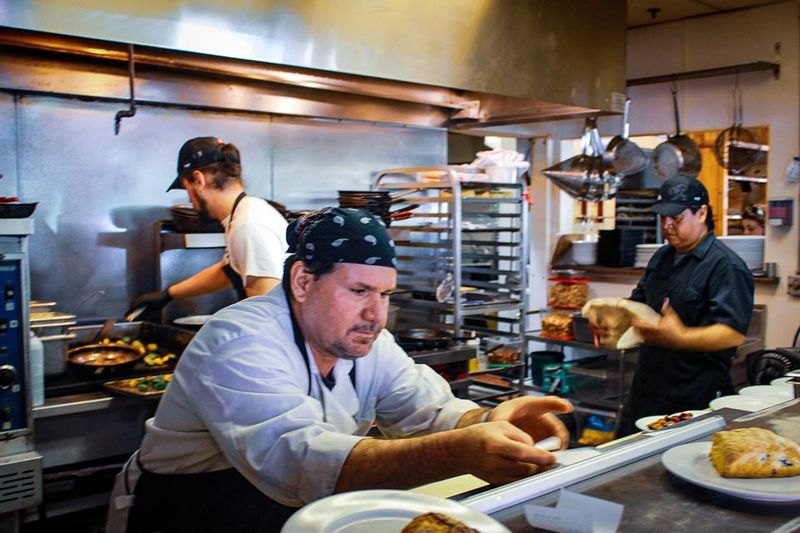 Are you involved with or do you support any local nonprofits, community organizations or causes?
I'm President of the Folsom Historic District Association, Ad Hoc Parking Committee with the City, and co-chair of the upcoming Soapbox Derby.
I really, really like this community. I never, ever would have been a mall girl. I could have never run a business in a mall and I feel so lucky to have landed here. I love the small town reality of where we are.
As I've gotten older the word community has taken on a whole new volume and scope to me. It makes a lot more sense now and I love being a part of the community.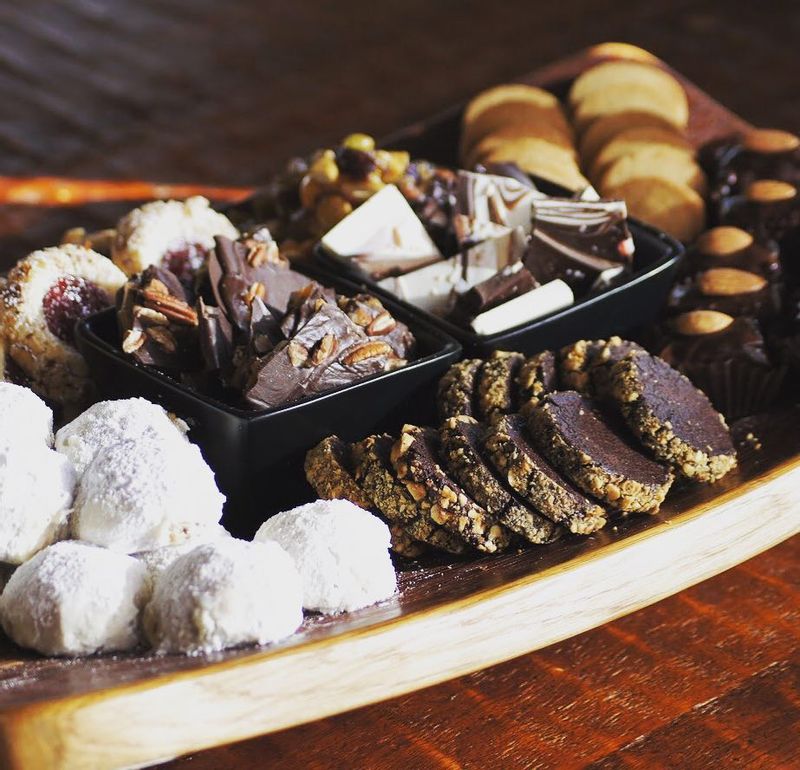 Why did you choose to be in the Folsom Historic District?
When I was a kid my grandparents had a place in the hills outside of Jackson and I grew up running around the foothills. Folsom is at the base of the foothills and it was a natural fit to be here.
We first started in Orangevale and were there for 2 ½ years on Main and Madison. Then a gentleman (who had his business in this building) came to me and said "you need more space and I know where it is!" and then he told me about this place that was about to be available.
I knew at that time that all the cool food kids were opening businesses Downtown, but because I was 100% committed to not losing my family in this whole process, I knew I was not going to be a commuter for this business.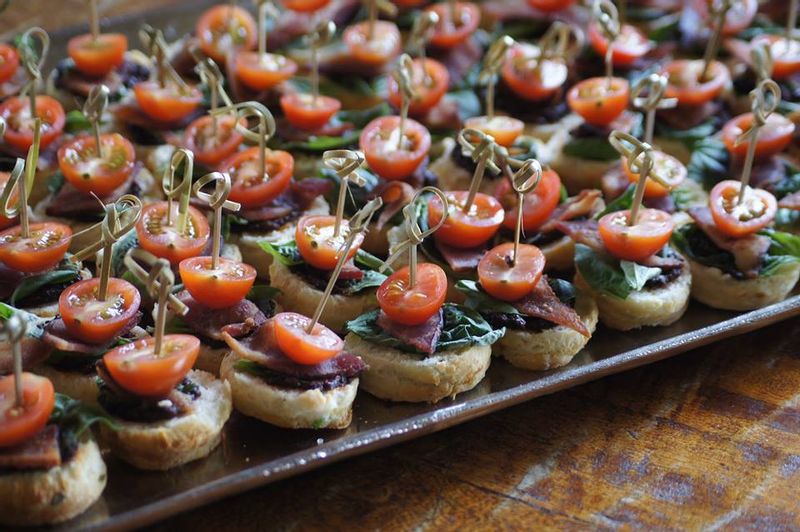 Besides your own business, what are your favorite business in the district?
I could say all of them!
One of my greatest new respects is for Anita who owns Anita Rochelle Boutique & Fine Art. She has some beautiful stuff in there and I'm really glad there is a retail clothing store on the street. I think it's cool.
I love that we have a live theatre (Sutter Street Theatre) - that's incredible. It's good that we have a mix, but without the theatre, the whole art side wouldn't be represented.
Sutter Street Steakhouse is good for a special night dinner, Sam Hornes is good for a burger and a beer, Snook's for an ice cream, and man, I could just say them all!
Are you a member of the chamber or any other networking organizations?
We're a member of the
Folsom Chamber
. I'm not a good formal networker, haha, but I'm a great informal networker.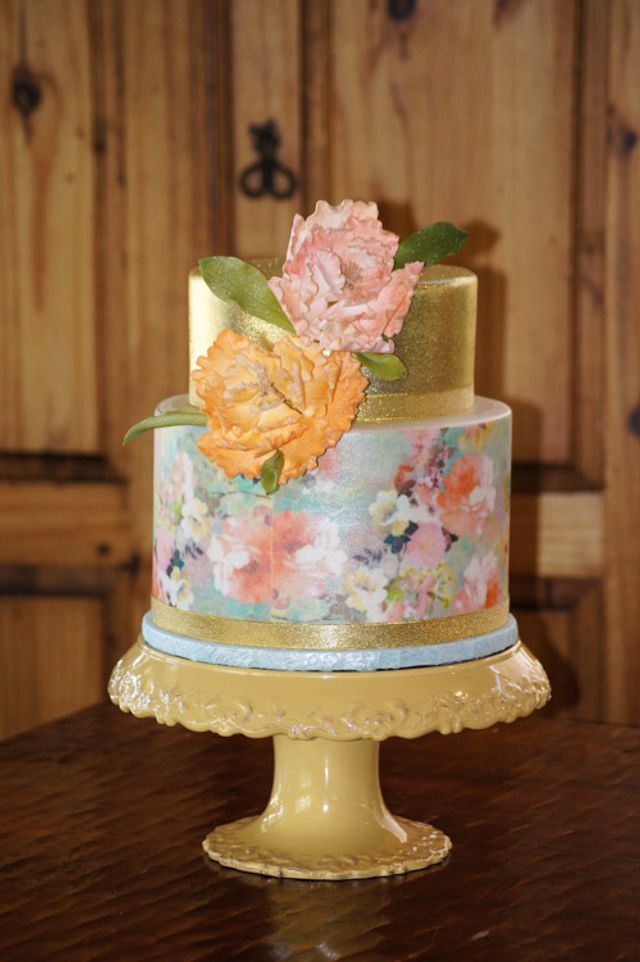 In your own words, what is the importance of Community to you?
You can equate community to throwing a rock in a pond and the ripple it creates.
When you're young, you are very very close to the center of that ripple and as you get older, and that ripple keeps happening and happening, you just realize how it's all a part of who you are and it's all around you.
In some ways, it's caused by who you are, and in some ways it can affect who you are, but you affect it to.
Community is such an amazing thing to watch. It broadens and grows as you get older and when you stay in one place longer, you realize that all of these people are a part of who you are.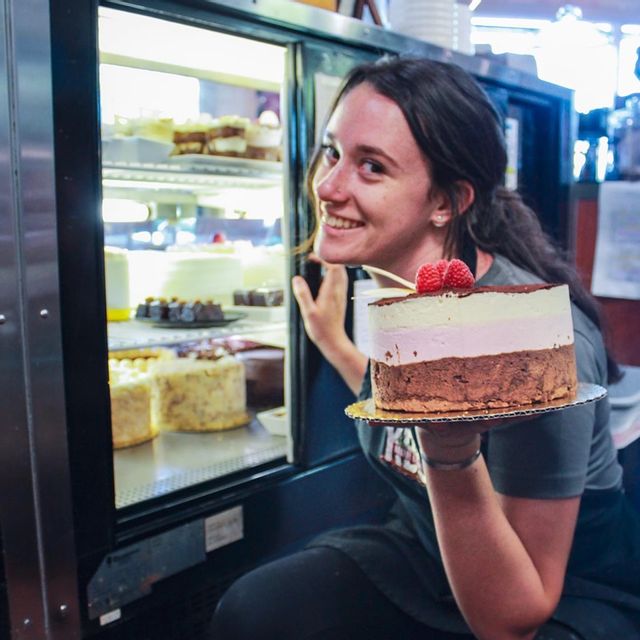 What role do small businesses play in a healthy and thriving community?
I think small businesses are very close to the nucleus of that community ripple. You go to the store and see your friends and your neighbors and that kind of community centric business is essential.
Good business community, good community, and vice versa.
Do you have any upcoming events, specials or new products/services that people should know about?
We're working on our Fall and Winter menu now and we'll see that coming soon. There are new cake flavors periodically and the menu changes a fair amount, but not as much as it used to (people like traditions so we try not to freak them out).
Also, The Soapbox Derby (our second one) is happening on October 12th and 13th. I'm so glad it's coming back!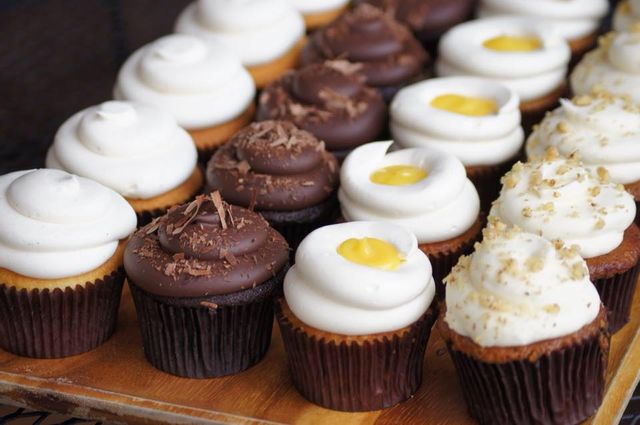 Anything else you'd like to tell folks?
The single greatest thing I feel is the pride in this being such a good place to have grown and nurtured a business and to have watched it grow as we have grown has been exciting.
---
Want to browse merchants in the Historic District?
Click over to Find It In Historic Folsom
---
Emma Eldridge is the Community Manager of Folsom-based technology company Locable and is excited to be working with the Historic District to share stories that make Folsom unique, and pretty much all-things-local.