Ophir Prison Marching Kazoo Band & Temperance Society
Free Concert - Zittel Family Amphitheater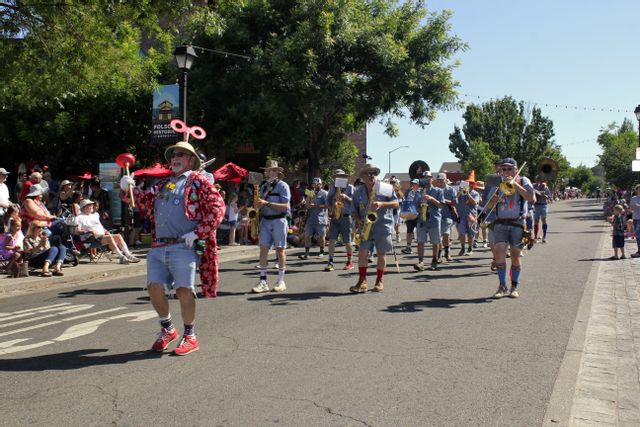 Description
Join us for the Historic Folsom Hometown Parade at 9:30am down Sutter Street.  The amazing world famous Ophir Prison Band will be keep the parade goers entertained as the participate in the parade procession.  Immediately after the parade they begin a delightful and FREE concert at the Zittel Family Amphitheater.
Ophir Prison Band performance is a unique, high-energy blend of music, humor, and antics.

The Ophir Prison Marching Kazoo Band & Temperance Society, Lmtd. has been delighting audiences and packing concert venues for over 40 years.

They are a 25- to 40-piece ensemble with pep band-type instrumentation—woodwinds, brass, and percussion—and the music they play encompasses a wide variety of genres from Big Band, Jazz, Jump Swing, and Standards to Rock, Pop and Hip-Hop. Members' ages range from the early 20's to the late 70's.

Outfitted in highly personalized "prison blues" and with tongues firmly in cheek, band members will tell you they're from Ophir Prison, an historic minimum-security facility tucked away in the foothills of the Sierra Nevada. Whatever their true origins, though, they share a love of music, fun, and showing audiences a great time.
Free to attend
Bring low back chairs
Historic District Free parking Garage
905 Leidesdorff St, Folsom, CA 95630
11:00 AM PDT
to 12:30 PM PDT
Private:No
RSVP Required:No
Accept Registration Online:No