Pony Express rides back into Folsom!
Pony Express Re-Ride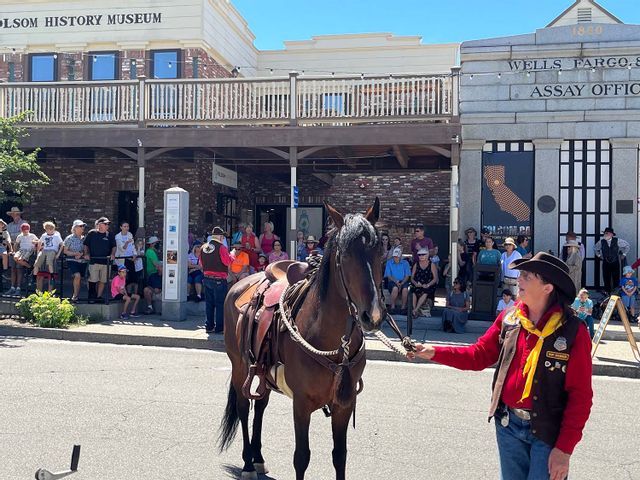 Description
Folsom once served as a hub of communication and transportation, acting as the Western Terminus of the Pony Express before telegraphs and railroads made it obsolete. Every year the National Pony Express Association recreates this arduous journey on horseback - between Sacramento and St. Joseph, Missouri - with a special stop in front of the Folsom History Museum on historic Sutter Street.

Join us as we celebrate this year's annual Pony Express Re-Ride honoring the 750+ brave men and women (and ponies too) that continue to make this commemorative journey possible today.
Try your hand at Pony Express-themed activities and crafts, all while learning more about this significant part of American (and Folsom) history.
In addition, Pioneer Village will also be open to the public with blacksmiths and volunteers giving live demonstrations throughout the evening. Participants will also receive their very own keepsake map and horseshoe, all included with the price of admission!
Festivities begin at 5:00 PM with a welcome ceremony at 6:00 pm. Horses and riders will hand off their mochila of mail at 6:29 pm. Don't miss out on this family-fun event!


Where: Folsom History Museum - 823 Sutter Street, Folsom, CA 95630
When: 5:00 pm to 7:00 pm
Cost: Pioneer Village and the Ceremony are Free - Museum Admission is Adults $9.00, Seniors $8.00, Youth $4.00, Children 5 and under Free, Folsom History Members Free

California is where the National Pony Express Association began in 1978. It was the Western Terminus of the historic Pony Express Route. It has both the Overland and Water Route of the Pony Express Trail beginning in San Francisco. The California Division participates in the Annual Re-Ride in June, has monthly General Meetings, and is active in trail work, preservation and interpretation, community groups and school visits, parades, and trail rides.

The National Pony Express Association plans to celebrate the 157th anniversary of the Pony Express by conducting a re-run of the famed mail service, and they are coming through Old Town Folsom!!

The Pony Express Re-Ride will take place Wednesday, June 7th from 6:00 pm to 6:45 pm with an official handoff happening at 6:29 pm.

Wednesday June 7, 2023

Old Sacramento Pony Express Statue, J & 2nd. Street 2:00 PM
Folsom Museum 6:29 PM
El Dorado Y 9:53 PM
Hangtown Chamber of Commerce 11:02 PM

CLICK HERE for the California re-ride schedule and more details

Folsom History Museum
823 Sutter St, Folsom, CA 95630
5:00 PM PDT
to 7:00 PM PDT