1st Saturday Art Hop Gallery Walk
First Saturday each month featuring local artists in action throughout Historic Folsom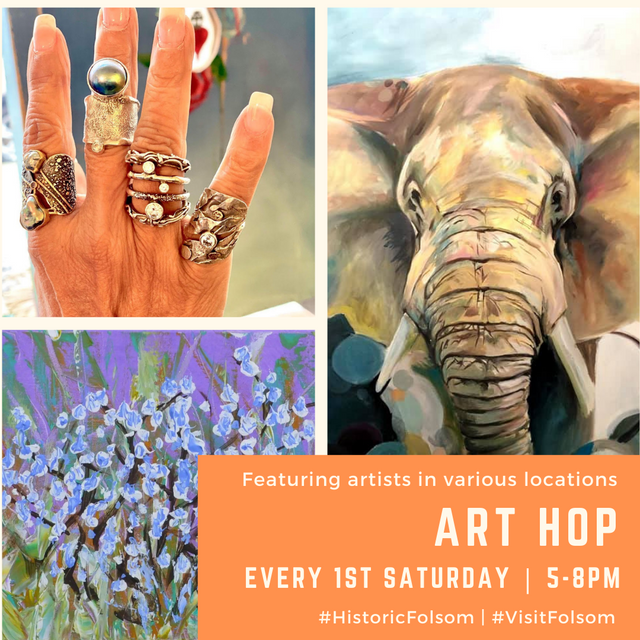 Description
Every first Saturday the Folsom Historic District Art Hop features local artists from Folsom and the surrounding community.  Artists are featured in our galleries, merchant locations and pop up style on Sutter St.  The 700 block of Sutter St is transformed on weekends into a pedestrian promenade, making this the perfect destination to get outdoors for a safe evening out while enjoying some local art talent! 
The event (and parking) is Free.  
Aug 7, 5-8pm
Fire and Rain Gallery - 705 Sutter St - Showcasing Tamara Kelly Jewelry Art - 20% off her Jewelry.
Rainbow Bridge Jewelers - 721 Sutter St -  Sue Woy: "A discerning eye for the exceptional in contemporary art jewelry."  Unique design & master craftsmanship join an amazing array of precious & semi-precious stones set in sterling silver & gold. A must see!
La Vintage Pink Door - 813 Sutter St - Lori Bernardo
YNOT Art Studio - 813 Sutter St - The Artist Tony Herbst started painting in his late 70's.  Being self-taught, Tony signs his paintings YNOT, that's Tony backward.  Most paintings are impressionistic or abstract. The paintings are oil and painted with a palette knife. The paintings are Alla Prima (wet on wet), and Impasto (thick textured).  The paintings are said to be colorful, cheerful, vibrant, happy, feel-good, and fun.
Ms Ting - Shanghai Tattoo - Specializing in large scale to smaller scale tattoos in styles of black and grey photo realism, color realism, Asian traditional, American Traditional, neo-traditional, Geometric, biomechanical, watercolor, abstract, etc.
Pop up style on the 700 Block: Ami Damani of Bruised Canvas, Megan Geare, and Raw Garden
Historic District Free parking Garage
905 Leidesdorff St, Folsom, CA 95630
5:00 PM PDT
to 8:00 PM PDT
Private:No
RSVP Required:No